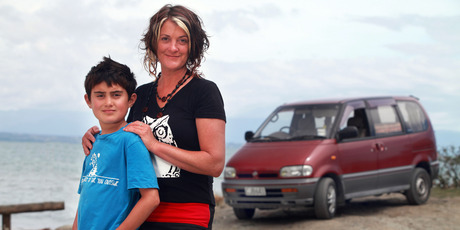 An independent documentary chronicling a mother and son's Kiwi road trip is rapidly gaining cult status as it sweeps the nation offering hope and heart.
Nelson mum, Emma Heke and her seven-year-old son Connor took to the road in a tiny van, on a shoestring budget of $200 per week for six months in the spring of 2011.
They stepped right outside their comfort zone, but the motivation for doing so was so strong that they never once doubted their decision.
The journey is showcased in the feature-length film, Our Green Roadie.
Armed with an itinerary that involved filming 70 different families and businesses from Riverton to Whangarei, the mission was clear for these independent film makers - to gather stories from carefully chosen ordinary Kiwis who have eco-conscious and economically viable businesses and lifestyles, in order to showcase the diversity of green enterprises that everyday folks are engaged in.
"We aim to dispel myths about green living and business, revive our entrepreneurial kiwi 'can do' attitudes and create a heartening documentary that encourages us all to live our dreams for a better future," said Emma.
As they travelled they updated a growing audience of 'Likers' via their Facebook page and it's through this social media that the film is gaining momentum as an iconic kiwi film.
Fifty people made the final cut in the feature-length documentary.
Our Green Roadie screenings are popping up all over New Zealand as word of mouth spread and communities ask for the film in their towns and cities.
"It's the kind of film where everybody can find somebody they can relate to and be inspired by," says Emma.
The Tauranga premier of Our Green Roadie screens at the Wesley Centre, 100 13th Ave next Wednesday at 7pm.